Real-money gaming in Brazil has seen significant traction recently. 
A whopping BRL 50 billion (~ USD 10 billion) is spent annually by Brazilian players, establishing Brazil as a top contender in the global gambling market. 
With over 100 million players, this South American nation ranks fifth in terms of market size. 
But diving deep, one observes a fascinating twist in this story: the gender dynamics in this lucrative industry. 
Spoiler alert: it's all much closer than you may think. 
Brazilian women loving real-money gambling almost as much as men
In recently months, an online Brazilian casino called 7JP.com has published research that highlights an almost equal representation of genders among the vast population of Brazilian gamblers.
Contrary to previous industry studies which might have indicated otherwise, women have marked their presence prominently. 
According to this research carried out by 7JP:
When it comes to sports betting, 54% of male respondents reported placing bets, while 38% of female respondents did the same.

For gambling activities unrelated to sports, 69% of men took part, compared to 62% of women.

The age group most actively engaged in betting for both genders is 25–34 years. For men, the next most active group is the 18-24 age bracket, whereas for women, it's the 35-44 age bracket. 

When considering all types of real-money gaming, men are involved in about 72-73% of instances. In contrast, 51-57% of women in these age groups participate, which is still a significant portion of the female adult population.
So as we hinted early on, there's still a greater proportion of men taking part in real-money gaming activities in Brazil as a whole. But it's not by much. 
The typical profile of a Brazilian gambler
Aside from the gender issue, the portrait of a Brazilian gambler is dynamic and varied as a study by ENV Media shows. 
The average age reported is 39.24, with the majority of gamblers falling in the 25-40 age bracket. 
There's a considerable representation from the middle-aged segment, 41-56, constituting over a quarter of the total. 
Education-wise, high school and university graduates form the bulk, with 48% and 44%, respectively. 
The occupation data shows that almost half have stable jobs, and a noteworthy chunk are pensioners, housewives, and students.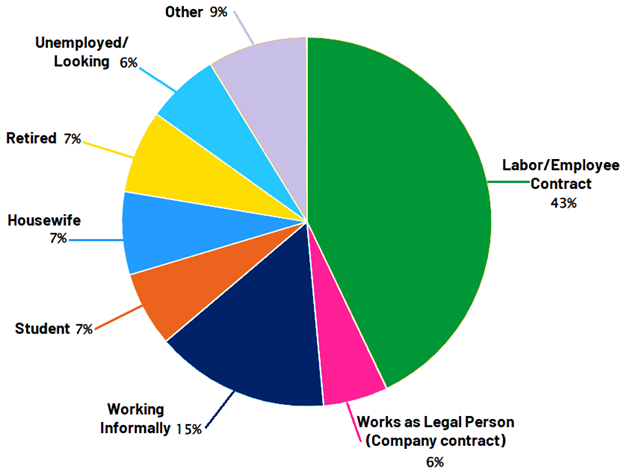 What's undeniable is the universality of gambling appeal across demographics.
Next steps for online gambling in Brazil
The Brazilian gambling scene is moving towards a regulated market, with authorities recognizing the importance of a transparent system. 
The legalization of sports and fixed-odds betting has brought renewed discussions on comprehensive gaming regulations. There's a call for a fully regulated Brazilian market that focuses on player protection and offers public benefits. 
Most players engage in online gambling recreationally, with only a minor fraction indulging daily. 
This signifies the industry's recreational nature, emphasizing the need for robust regulations.
Trust and responsible gaming stand as pillars in the evolving Brazilian iGaming industry. 
Players prioritize trust when choosing betting sites, with recommendations from peers playing a pivotal role. Transparency, verifiable certificates, and licensed operations are deemed crucial. 
Despite the allure of significant returns, Brazilians are largely risk-averse. 
And it's an ecosystem where both sexes are very well represented among real-money players, as the studies have shown. 
It will be interesting to see to what extent, if any, this changes over the next few years.