Poker is one of the few casino games that you can actually play professionally. It is unique as there is no house edge, and money for payouts comes from the opponents you are playing. Not only that but there are also poker tournaments that attract attention from all over the world. Nowadays, some of those famous tournaments are even played online, so it's understandable if someone wants to register on a casino site in order to get into poker. To that end, we will go over a short guide or tips on how to play real poker in an online casino.
Find a Legit Site
If you have never played poker online before, then it is really important to do a quick check on the site before you make an account or deposit any money. If you want to play on an online casino then you need to check if it is a licensed and regulated company and if the site uses HTTPS protocol. The absence of one or both of these is definitely a red flag and you should leave the site.
It would be ideal to play on a site that is registered in your own country but, for legal reasons, that is not always possible. If you are playing on a site in Curacao, the UK or Malta, you can check user reviews of the operator just to be extra sure.
Claim Online Casino Bonuses
One of the advantages of playing online or at an online casino is the benefit of the bonuses. You will see that there are lots of different incentives or promotions, but once you start reading the terms and conditions you will figure out that some are way better than the others. You will find free spins for adding card in UK sites, which are great as there is no need to make payment upfront. Moreover, you get to play slots if you want to change things up a bit. There are of course also offers for doubling your deposit and getting free chips, but those usually come with wagering requirements. So, make sure you are comfortable with those requirements before you opt-in.
Now it would be great if you can find multiple platforms that offer decent bonuses so that you can benefit from all of them. You see there are sites with multiple promotions in form of cash-backs or offers that are variable only on certain days. This way you can diversify your gameplay, see where it feels better, and get more value for your buck. Ideally, you want to find good no deposit bonuses, as you won't have to make any payments this way.  It's a good way to test the casino and see how long it takes to find other players for a poker game.
Practice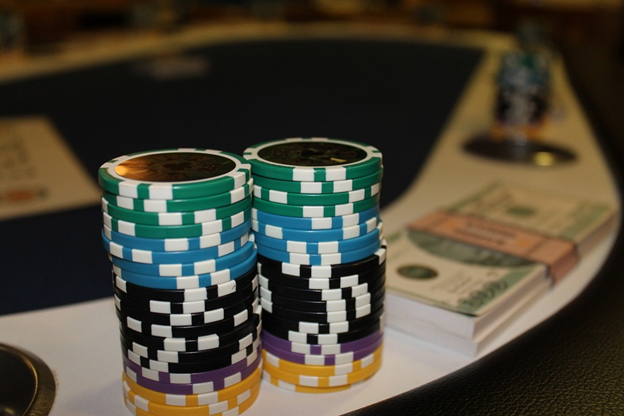 Finally, you need to practice a lot if you wish to be good at online poker. It's a bit different from when you play with real people, and you have a lot less time to think about your move. Luckily, there are lots of games on social networks and poker apps that don't involve real money. Additionally, you can play against advanced AI, as it is programmed to be really good at poker, and it's tougher to beat than many real people out there.
The reason why this is important is that people who play for real money tend to be really good. So, if you don't want to end up being fodder then you will have to up your game. There are lots of online lessons, and poker books that are written by professional players, and they can help you get really good at poker. If you can be in the top 10% then that's going to be amazing.
Conclusion
These are some of the most basic tips for those who wish to play poker online using a casino operator. The main thing to watch out for is to be on a trusted website and of course to know what to do at a real money poker game. Bonuses are a great way to get started and to alleviate some of the tension, as you are not solely relying on your money. However, sooner or later you should get really good and increase your win rate. If you don't, maybe real money poker isn't just for you yet.