When picking the greats in any sport, it's always going to be a debate. However, that's much easier than picking poker's greats as there are several factors to consider. Poker players can be ranked by the money they earn over the course of their careers but that's a bit unfair as there's a bit more that should be taken into consideration.
Style of play, personality and achievement could also be factored in, which is the direction taken with the list of top players below. This isn't a ranked list, so no one's being placed above or below anyone else; we're simply noting 10 of the best players to grace a table.
Doyle Brunson
Doyle Brunson doesn't play much today yet he can boast being one of the players who stood the test of time, having played poker professionally for more than 50 years. The Texas native turned 88 in August and is one of the most recognized players in the history of the game.
Brunson won plenty of accolades over the course of his illustrious career, including 10 World Series of Poker bracelets. Those are made up of wins from the Main Event in 1976 and 1977 but Brunson made a WSOP final just four years ago and boasted the record of the oldest winner of a poker tour event at the age of 71 back in 2004.
Armed with a natural feel for the game and several years of experience, Brunson won $6.2 million in earnings as a professional poker player. Readers don't need to be as skilled as Brunson to make some decent winnings as online games can yield notable earnings. Sports betting is another avenue that could be explored online and resources such as sportsbookreview.com could aid in that regard.
Phil Hellmuth
Phil Hellmuth is a current luminary of the discipline and is certainly one of the biggest names in the game today. Known for his intelligence and keen understanding of the cards, Hellmuth has won 15 bracelets along with $23 million in cash.
Winner of the WSOP tourney in Las Vegas in 1989 and in Europe nine years ago, he's yet to get his name on that Champions Cup. We imagine that won't be the case once he decides to call it quits, however.
Justin Bonomo
Bonomo will turn 36 at the end of September but has won 18 major tournaments. He hasn't even been a pro that long, only starting in 2016. ZeeJustin, as he is known, has racked up a whopping $44.6 million in earnings and continues to dominate the game on a worldwide scale.
The Las Vegas resident is obviously an intelligent player who has a great feel for the game and he has been putting his head to use against some of the best in the game to proper effect over the past five years.
Fedor Holz
Hailing from Germany Fedor Holz is one of the top players who switched from online poker to the live game. Holz had made around $33 million in earnings by last year, making it to the very top of the poker space.
He is known as a risk-taker but, who isn't in poker, right? Aside from that, Holz is considered to be one of the most brilliant minds the game has seen.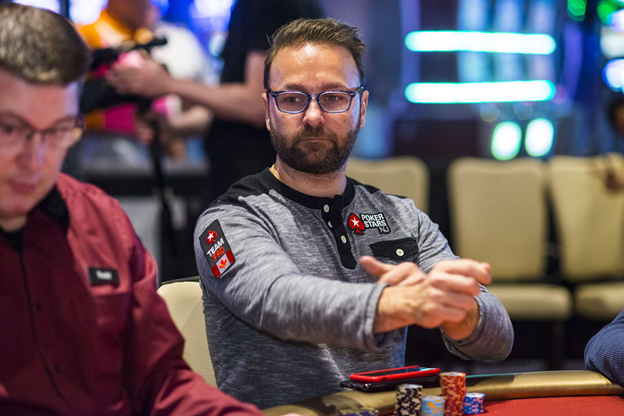 Daniel Negreanu
Referred to as Kid Poker by his fans, Daniel Negreanu has been around the game before Y2K and still holds the record for the biggest live poker tournament winner of all time. The Canadian is also the first player to be named player of the year by the WSOP on two occasions. He's won six bracelets, as well as two WPT titles and around $33 million in earnings.
Phil Ivey
Known as the Tiger Woods of Poker, Phil Ivey has maintained his spot in the upper echelons of the game.  He was the biggest name on the scene in the early 2000's, having won his first bracelet at 23 and three more in one summer in 2002. He's since won six more, plus $26 million in earnings.
While he has been accused of being a cheat, Ivey, who has also won a title, has his respect in the poker space.
Daniel Colman
The American, 31, only has one bracelet and zero titles but has amassed $29 million in cash winnings. He can look back fondly on the time he booted the other Daniel in this list out of The Big One for One Drop to win $15.3 million. He mainly sticks to the online game and goes by the name mrGR33N13 but we reckon there will be a lot more to see in time to come.
Johnny Moss
Known as the Grandfather of Poker, Johnny Moss is a former Texas road gambler who passed away at the age of 88 in 1995. Moss's cash winnings cannot be presented here but, on a professional level, he won three Main Event titles and nine bracelets to the tune of $1.25 million. Moss is considered to be one of poker's best competitors; they did not refer to him as the above for nothing.
Bryn Kenney
The New York native is the all-time earnings winner with more than $56 million to his name and, were this list based on winnings, would rank at No.1. He started off playing Magic: The Gathering card game before switching to poker and entering his first tournament in 2007.
As his skill continued to grow, so did his wallet. Just two years ago, he finished second in a $1 Million Triton event and took home $20.5 million.
Dan Smith
Referred to as Cowboy Dan, Dan Smith quit college to play poker professionally and no one will argue that it hasn't worked out. Smith has made over £33 million in earnings but stands out because of the charity work he does.
The player set up the Double Up Drive for poker players and it also functions as an avenue to help folks in need. The venture has seen lots of support from his contemporaries.