Spectators who had the endurance to remain were treated to one of the longest and most competitive Ante Up World Championship Main Event final tables, finally brought to a close early in the morning with a four-player deal that anointed Wilson Tolon as Ante Up's new world champion at Thunder Valley Casino Resort in Lincoln, Calif.
"It was a good structure. When you have a decent stack, you can play any hand you want and that's what I do," Tolon said. "I really loved the structure of the tournament."
The final table featured nine players with well more than $1 million in combined tournament winnings, led by Amir Lehavot, who finished third in the 2013 World Series of Poker Main Event, and four-time World Series of Poker Circuit ring winner Jashi Kumar, who also finished 58th in the 2016 World Series of Poker Main Event. The rest of the table was filled by accomplished Northern California tournament regulars, including the last woman standing, Anne Bui.
Play through the lengthy final table was calculated and methodical, with dozens and dozens of raise-and-take-its, with few players willing to risk their stacks unless they had to. Kumar was the only one willing to shove his chips in the middle often, almost never receiving a call. 
The event, which started its Day 2 final day at 10 a.m., might have ended prior to midnight, but Lehavot was the lone holdout in deal negotiations. Almost two hours later, Lehavot shoved his remaining short stack with pocket queens and Greg Pincombe, who had eliminated the first two final tablists, called with king-queen. A king in the window sealed Lehavot's fate, and the final four quickly reached a ICM deal to close the event. 
"(Amir) wants to play the game," Tolon said of the earlier chop discussions, but after Lehavot was eliminated, "they asked me again if I wanted to do the ICM. We've been playing  for 15 hours and I was tired. I had 9 million and the other guys had 6 and 5. You never know what happens if you play it out."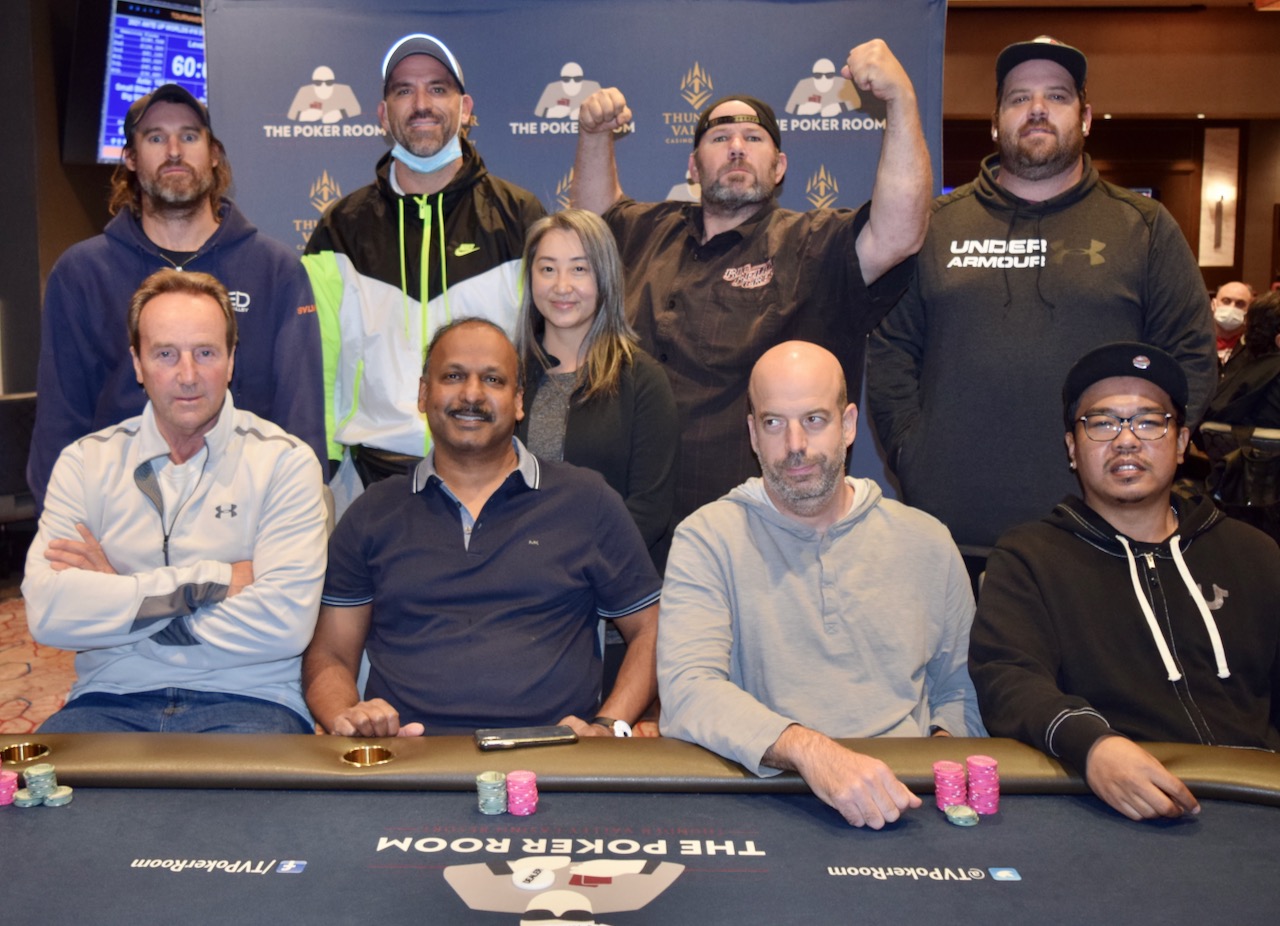 Tolon earned $123,765 from the nearly $1 million prize pool, the largest in Ante Up Poker Tour history, more than doubling the career earnings of the player who prefers pot-limit Omaha cash games to tournaments. Kumar earned $111,820, Pincombe $110,199 and Dawson Dvorak, whose only previous tournament cash was for less than $3,000 according to The Hendon Mob, rounded out the deal with $102,169. Lehavot settled for $45,920 as the last player eliminated.
It was Tolon's tournament most of the day. He advanced from Day 1A to start Day 2 with 15th in chips with 507,000, less than half of chipleader Jaime Haletky, a former Ante Up NorCal Championship champion who three days earlier finished runner-up in the annual Head to Head Championship. But Tolon would soon get a big hand that doubled him up and propelled him to the tournament lead for much of the rest of the tournament. 
"I had two kings, and the under the gun player and another player raised," Tolon said. "I four-bet almost all-in – I had about 500,000 at the time – and I got called by ace-jack."
Tolon moved up to eighth in chips by the 27-player redraw, drawing a table with Haletky, now with 2,015,000, and new chipleader Brett Parise with 2,885,000. And that's when Tolon took off. After just five more eliminations, he was the commanding chipleader with 3,635,000, and on the first hand back from dinner break, he eliminated Haletky to move to 5,500,000 in chips.
Tolon put that large stack to good use, later calling Igor Guberman's shove with just 8-7 offsuit and rivering an 8 to set the final table, where he was by far the biggest stack with 7,600,000, more than 3 million more than second in chips Pincombe with 4,450,000. Tolon had high praise for Pincombe.
"He was the all-star," Tolon said, referencing Pincombe's eliminations at the final table. "I played with him a lot today. He's a great player."
| | | |
| --- | --- | --- |
| 8.27-29.21 | Ante Up | Worlds |
| Event 16 | Event | 16 |
| $1,650 | World | Champs |
| 674 | | Entries |
| $985,388 | Prize | Pool |
| 85 | Places | Paid |
| | | |
| PLACE | | PAYOUT |
| 1 | Wilson Tolon | $123,765 |
| 2 | Jasthi Kumar | $111,820 |
| 3 | Gregory Pincombe | $110,199 |
| 4 | Dawson Dvorak | $102,169 |
| 5 | Amir Lehavot | $45,920 |
| 6 | Steven Dempsey | $36,685 |
| 7 | Jason Hickey | $30,390 |
| 8 | Shain Matthews | $24,190 |
| 9 | Anne Bui | $18,160 |
| 10 | Igor Guberman | $18,160 |
| 11 | Lee Chau | $15,075 |
| 12 | Badbaatar Genden | $15,075 |
| 13 | Toko Luu | $12,040 |
| 14 | Brett Parise | $12,040 |
| 15 | Hieu Le | $12,040 |
| 16 | Thu Tran | $10,020 |
| 17 | Jeffrey Griffiths | $10,020 |
| 18 | Ken Huynh | $10,020 |
| 19 | Kwan Kong | $8,210 |
| 20 | Jaime Haletky | $8,210 |
| 21 | Michael Needle | $8,210 |
| 22 | Clinton Ronsse | $6,935 |
| 23 | Simon Santiago | $6,935 |
| 24 | August Shastry | $6,935 |
| 25 | Ilyas Muradi | $5,865 |
| 26 | Anshun Jain | $5,865 |
| 27 | Mohammad Abufarie | $5,865 |
| 28 | Cheng Xiong | $4,800 |
| 29 | Tony Le | $4,800 |
| 30 | Kevin Rand | $4,800 |
| 31 | Jesse Lonis | $4,800 |
| 32 | Jedidiah Hoffman | $4,800 |
| 33 | Srinivasa Godavarthy | $4,800 |
| 34 | Ron Fetsch | $4,800 |
| 35 | Steven Jackson | $4,800 |
| 36 | Mai Xiong | $4,800 |
| 37 | Rafael Haro | $4,210 |
| 38 | Amber Chatwin | $4,210 |
| 39 | Sandeep Pulusani | $4,210 |
| 40 | Glenn Miller | $4,210 |
| 41 | Jessica Plusko | $4,210 |
| 42 | Joe Nguyen | $4,210 |
| 43 | Anthony Wasaya | $4,210 |
| 44 | WIlliam Givens IV | $4,210 |
| 45 | Timothy Lin | $4,210 |
| 46 | Cynthia Isip | $3,715 |
| 47 | Victor Wan | $3,715 |
| 48 | Guadalupe Hernandez | $3,715 |
| 49 | Tae Chong | $3,715 |
| 50 | Catherine Whidden | $3,715 |
| 51 | Rommel Santos | $3,715 |
| 52 | Kao Saechao (CA) | $3,715 |
| 53 | Anthony Cilibrasi | $3,715 |
| 54 | Mark Bryan | $3,715 |
| 55 | Cornel Cimpan | $3,320 |
| 56 | Robert Logan | $3,320 |
| 57 | Changliang Deng | $3,320 |
| 58 | Kenneth Jones | $3,320 |
| 59 | Pedro Rodriguez | $3,320 |
| 60 | Sam Fara | $3,320 |
| 61 | Zihao Wang | $3,320 |
| 62 | Jeremiah Cannaday | $3,320 |
| 63 | Mark Egbert | $3,320 |
| 64 | Ronny Gil | $2,955 |
| 65 | Dustin Estrada | $2,955 |
| 66 | Idris Yonisi | $2,955 |
| 67 | Jimmy Zeledon | $2,955 |
| 68 | John Necomerzhycky | $2,955 |
| 69 | James Westerberg | $2,955 |
| 70 | John Smith | $2,955 |
| 71 | Victor Campana | $2,955 |
| 72 | Kelly Douglas | $2,955 |
| 73 | Jason Armfield | $2,670 |
| 74 | FIlip Andretsudis | $2,670 |
| 75 | Adam Brownstone | $2,670 |
| 76 | Kenneth Sumner | $2,670 |
| 77 | Dean Freedlander | $2,670 |
| 78 | Jseph Arent | $2,670 |
| 79 | Noel Edwards | $2,670 |
| 80 | David Carey | $2,670 |
| 81 | Paul Taeza | $2,670 |
| 82 | Nicky Niknam | $2,385 |
| 83 | Yanki Koppel | $2,385 |
| 84 | Robert Pacleb | $2,385 |
| 85 | Arris Kontos | $2,385 |