When the COVID-19 outbreak arrived in early March and steadily scuttled virtually all of North America's sporting calendar, the sports betting industry was cast into disarray.
Previously unknown sports began emerging to fill this sports betting void. Russian table tennis, Belarussian hockey, Korean baseball, even European darts leagues gained traction in terms of wagering.
Casino gambling also took a major hit. At one stage during the pandemic every one of the 989 commercial and tribal casinos situated in the United States was closed for business. 
Certainly because of a combination of these reasons, online casinos are discovering that there's been a significant uptick in action at both their casinos and especially, in their poker rooms.
In New Jersey, Pennsylvania and Delaware, three U.S. states where online casino gambling has been recently legalized, those sites were reporting dramatic increases in handle. They combined to draw $213 million in betting revenue during the months of March and April. These totals were displaying substantial growth from the same markets that drew $140 million in online casino revenue in January and February, the two months immediately prior to the coronavirus outbreak. 
The revenue growth in online poker rooms was much more dramatic. For example, PokerStars in Pennsylvania, which operates in partnership with the Mount Airy Casino Resort in Pocono, garnered $5.25 million in revenue during the month of April. That was nearly a 300 percent increase over its pre-pandemic monthly averages.
The Stars Group, owners of the PokerStars brand, credited a COVID-19-related increase in online poker for powering a dramatic increase in first-quarter earnings. 
The company projected revenue of approximately $735 million, up from $580 million during the first quarter of 2019.
New Jersey's online poker rooms showed a 90.9 percent increase in revenue in March 2020 compared to March of 2019. 
Why Poker?
Certainly, part of the reason for the uptick in online poker participation is because of regular poker players. The many players who prefer to play live poker suddenly found themselves shut out of that option. Instead of halting games, they've opted to take their card playing online. 
With mandatory shelter in place orders or social distancing regulations enacted, local groups who'd gather for weekly poker games could've been shut out. Instead, many of them are opting to sign up for an online poker site and move their game into the virtual realm. 
Some sports bettors are also turning to poker for the same reason that they wager on sports. These types of bettors like to feel they've got a say in the outcome of their wagering, and consider betting on sports, whether it be the NFL, NCAA or horse racing, to be a pursuit that requires the development of a certain skill set. These players look upon casino gambling as nothing more than games of chance.
Poker, however, offers a similar adrenaline rush to sports betting. Players at the table play a role in determining the outcome. As with sports, there's always going to be an element of luck in how the cards fall. But there's strategy involved when a player sits down at a poker table. They aren't simply pulling the lever or pushing the button on a slot machine and hoping for the best.
This Has Happened Before
When the NHL scuttled its entire 2004-05 season in a labor dispute, the winners were neither the players or the owners. Poker was the champion that emerged from this battle.
Desperate for programming to fill the vacuum created by the loss of endless supply of hockey games, all-sports networks – especially those in Canada, where hockey is the country's No. 1 sport – searched far and wide for filler programming. They tried running footage of old games, and carried broadcasts of European hockey, but these options drew nothing but yawns and disinterest from viewers.
As a last resort, the networks turned to poker, and a star was born. As a niche program, poker had gained some television coverage as early as 2003. But with the NHL gone, poker not only found an audience, it gained a foothold in prime time hours. 
People who previously didn't know Texas Hold'em from a Texas hold up were becoming poker aficionados. Some poker broadcasts were drawing triple the ratings share that NHL games had produced in the same time slot. Hordes of people not only took up an interest in the game, they began playing poker. And many have stuck with the game.
Poker Adjusts On The Fly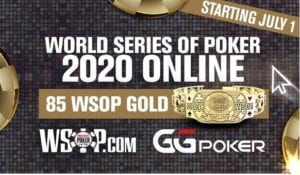 Another advantage that poker held over other competitions is that switching from live to online is a relatively seamless transition. 
In the USA, WSOP.com quickly moved to an Online Super Circuit Series to serve as a replacement for the live World Series of Poker Circuit. The prize money for the event jumped from $1.24 million to $4 million because of the massive increase in entrants.
The World Poker Tour and PartyPoker.com combined to launch an online series of tournaments. PartyPoker also enabled the Irish Poker Open to move its entire competition into the virtual world. Unibet switched all of its remaining 2020 poker events to an online format as well. 
Not every event opted to go this route, however. PokerStars called off its PokerStars Players No Limit Hold'em Championship. Slated for Aug. 20-24 in Barcelona, Spain, it will instead be contested in 2021.