The 51st annual WSOP, which runs ‪May 26-July 15‬ at the Rio All-Suite Hotel & Casino in Las Vegas, will have 17 new events on the schedule.
Headlining these additions is the Freezeout Series, a half-dozen new no-limit hold'em events priced between $500 and $5K that will utilize the freezeout format — allowing only one entry.  NLHE staples, including Monster Stack, the main event and the mini-main event will keep the freezeout format, and in all, more than 40 events on this year's WSOP official schedule will give players just one shot to turn their buy-in into a bracelet. The Freezeout Series six-pack are priced at $500, $1K, $1,500, $2,500, $3K and $5K.
Another new event (and a freezeout) sure to attract interest is the $1,500 Mystery Bounty tournament scheduled for ‪June 28 at 11 a.m.‬, with a huge 50,000 stack where a guaranteed $1M in mystery bounties will be up for grabs, including a maximum mystery bounty prize of $250K in the mix. The event will function as a typical bounty tournament with a portion of the prize pool going toward bounties, with the remainder going to finishing position, but the allure of this iteration is the "mystery" component.  Not all bounties have the same value – each bounty amount will be randomly selected.  At least one of the mystery bounties will be worth $250K and a total of 100 mystery bounties will be available ranging from $2,500 to $250K. The remaining "standard bounties" will be worth $100 each.  Every player is a bounty, and any player eliminated must turn over their assigned bounty chip to the player that eliminated them.
A new price point to the WSOP this year is the $250K buy-in level, the first time an event at this price point has been offered in Las Vegas.  ‪On‬ ‪June 27 at noon‬ the $250K Super High Roller tournament begins.
"New events are always a result of player input and we're thankful to have received many great suggestions this year," WSOP VP Jack Effel said.  "The 2020 WSOP is chock-full of new events, new price points and a little mystery sure to resonate with poker players everywhere.  We can't wait to open our doors in four short months to get things started."
Here is the list of all the new bracelet events scheduled: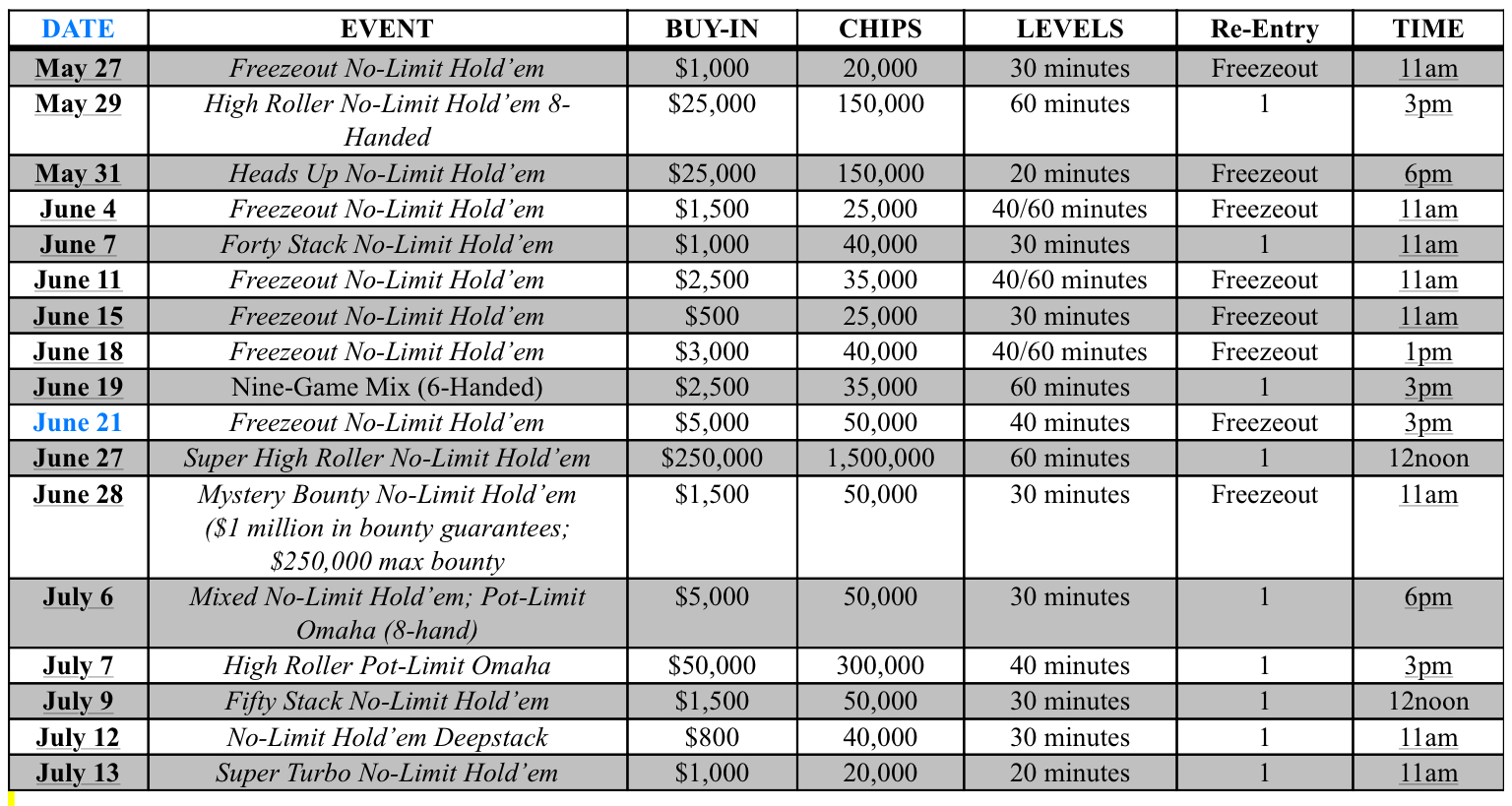 The above list of events features a dozen events that had not been announced and five that were announced as part of other segments of the schedule.  The only other new events not included above will be released as part of the ‪WSOP.com‬ online schedule next month. All above announced dates, times and events are subject to change.