Where the game of poker originates from has divided opinion for many years.
Some claim the game can be traced back to the 10th century while others say it is a descendant of the Persian game As Nas from roughly the 16th century.
However, there is one thing most Europeans agree on, and that is Poker probably evolved from the game known as Poque which was popular with the French in the 17th century as it involved being dealt three cards and then betting/bluffing on the value of those cards.
Whichever story is true matters little, as one thing we know for certain is that poker has been around for a long time and if there is any card game that evolved with the times, then it is poker.
Riverboats
Poker really started to hit the big time Stateside with the game being a prominent feature with riverboat gamblers roughly around the 1850s.
Riverboat gambling on the Mississippi became big bucks as most state laws forbade gambling on dry land.
Riverboats enabled gambling to go ahead along popular trade routes, which in itself attracted professional gamblers from all over the country.
However, because of the relaxation of some U.S. state gambling laws these days, a number of casinos are moving from riverboats back to land based. In 2016, Tropicana Evansville became the first casino to get Indiana approval to move off the river and onto land in a landmark move for the state.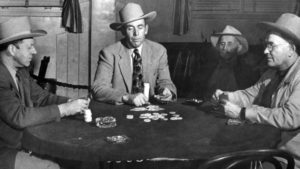 Riverboats tend to be more of a novel thing these days and a way to garner tourism. One of the reasons there are far fewer riverboats to play poker on is not just because of the relaxation of gambling laws, but rather the damage that can be inflicted via natural causes.
When Hurricane Katrina hit Mississippi, the floating river casino barges were all but wiped out thus proving how at risk riverboat casino really are.
1998 and Poker goes mainstream
Throughout the 19th century, poker was a constant stablemate of saloons, clubs and designated casinos throughout the world.
Barely a Western Hollywood film goes by without a dusty saloon housing a group of cowboys sat around a table. More often than not, a fight will break out as someone has been suspected of cheating and one can safely assume that those scenes were not far from the mark in terms of reality.
However, as technology evolved and we moved into the latter part of the 20th century, poker suddenly became available to an audience outside of casinos.
1998 would prove to be something of a key moment in the history of poker. It was on the Jan. 1, 1998, that the first hand of real money online poker was dealt.
That was the start of what would prove to be boom time for poker in which the coveted World Series of Poker started to expand from 2005 enabling anyone with an Internet connection to enter early qualifying rounds to see if they had what it takes to make it to the intimidating tables.
However, it is not just the World Series of Poker that has benefited. Now there are hundreds if not thousands of online tournaments which can then lead to big regional sit-down tournaments with life-changing sums of money up for grabs.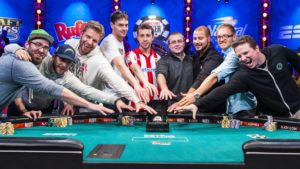 The way poker has adapted to modern technology has been a huge success story and one that has changed many lives and not just because of the online presence. Sites like Betway Casino allow players to play poker games wherever they are, on desktop or mobile.
That said, it is not all about online, local tournaments can still draw a big crowd and set people on the way to stardom.
For example, who can forget the flamboyant Englishman John Hesp who finished fourth in the final of the 2017 WSOP tournament.
The caravan seller from Yorkshire (64 at the time) who enjoyed nothing more than playing £10 buy-ins at his local casino but ended up making it all the way to Las Vegas and netting a cool £2 million in the process.
Poker is a game with a rich history with conflicting stories but from the saloon and riverboats of the 1850s to the modern-day computer screen and mobile phone, one thing is for sure, the popularity and accessibility of the game continues to improve and that can only be a good thing.