2019 has been a promising year for mobile gaming, and 2020 is poised to be even better. The arrival and implementation of two fundamental pieces of tech, 5G and folding phones, deserve much of the praise here, even though they remain in their infancy.
With that in mind, we want to explore exactly what these two technologies are, how they could relate to each other and what effect they could have on the future of mobile iGaming.
5G
The name 5G refers to the fifth generation of mobile connectivity. This generational concept started with the first generation in Japan in the late 1970s, which has been slowly evolving since. The most recent of these changes, the jump from 4G to 5G is one focused on speed as the primary factor. While the fastest 4G networks are no slouches, 5G promises to take this speed to an entirely new level.
At this point, the fastest connections as offered by Verizon 4G stand around 53.3 Mbps. Assuming max capacity, this translates to 24 gigabytes of download per hour. When 5G becomes active, this number could rise as high as 1.07 Gbps, which translates to a theoretical maximum download of 481.5 gigabytes per hour. The 5G speed boost also applies to uploads and, as the infrastructure improves, there is potential for this number to rise further.
The most profound benefit here comes down to the playability of mobile iGaming experiences. Most of these are smaller affairs, but the new level of speed could practically guarantee instantaneous access across all offerings.
Folding Phones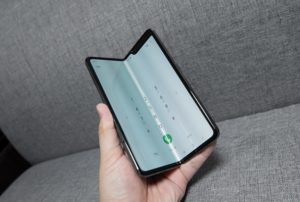 Starting their first generation in 2019, folding phones are a natural next step in the evolution of mobile display space. By opening like a book, these effectively double the usable area. This additional space gives users a lot more room to breathe, both in terms of multitasking and for general operations.
For iGaming, the advantages here come from making the experience more engaging through a greater emphasis on visual clarity. Most current mobile casinos such as Mobilebet already offer clear and uncluttered play across a range of activities like live casinos and sports betting, but a bigger screen here could only help.
Essentially, these could turn mobile phones into types of small tablet computers. Slightly more power, a lot more space, and easier control are all features which folding phones could promise.
Cooperation
Working together, these two systems could make a field that excels in the mobile space even better. Games could go from fast to instant, and visibility could go from clear to flawless, all in the space of a couple of years.
That said, we would encourage perhaps waiting a few months before heading out and buying a new 5G folding phone. For a start, 5G isn't in wide operation, so it's probably best to wait until it's available before you try to connect. Also important is the fact that devices like folding phones are in their first generations, so it might pay to see if any issues shake out.
We should also note these 5G and folding phone elements promise to expand iGaming, not entirely reshape it. While devices offering these speed and screen potentials might be must-buys for some users, other users will be perfectly suited to sticking with their older mainstays.
The cooperation and existence of these new systems give us a matter of choice, but don't mistake choice for necessity, at least not for a few years yet.