The Hard Rock poker room in Tampa, Fla., hosts its Pinktober series for breast-cancer awareness, beginning Oct. 9, offering $500K-plus in guarantees. The series kicks off with a $360 tourney with a $150K guarantee. Flights will be Oct. 9-12 at 11 a.m. There's $250 women's event with a $10K guarantee Oct. 13 at 1.
The $1,100 main event, with a $300K guarantee, has flights Oct. 17-19 at 11 a.m. There will be satellites starting $100, running Oct. 9-19.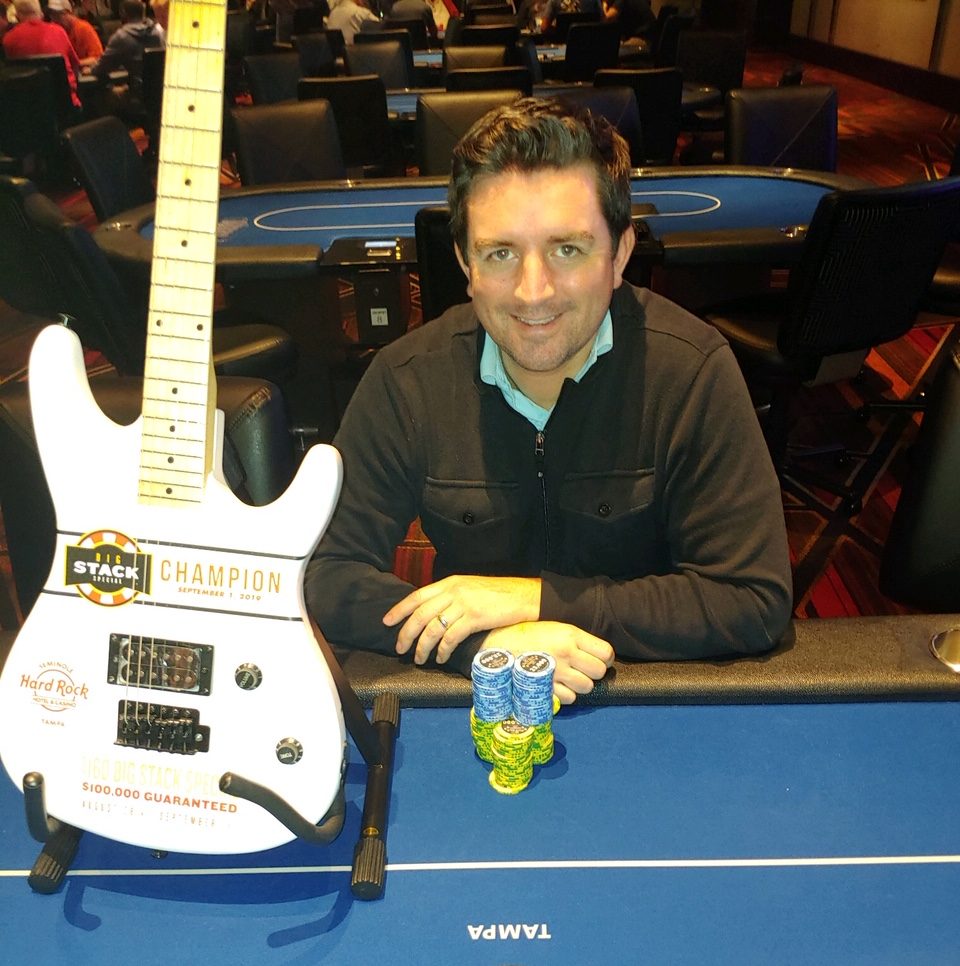 In results news, the $160 Big Stack Special ended Sept. 1 with Peter Walsworth of Lakewood Ranch, Fla., pocketing $24,608 and the title after defeating nearly 1,200 players. The prize pool was $147K and Nick Carter of Zephyrhills, Fla., was runner-up for $20K.
TAMPA BAY DOWNS: The Silks Poker in Tampa, Fla., has a couple of $10K guarantees for $150 on Oct. 12 and Oct. 26 at 6'30 p.m.
As for daily events, the Sunday superstack is $55 at 1 p.m. and a Cheap Stack is $20 at 7. Tuesdays and Thursdays are $1K guarantees for $45 at 1, Wednesdays and Fridays are $55 at 1 and 7, and Saturday is $90 at 1 and $70 at 7.
OXFORD DOWNS: Most daily tournaments run at 12:15 p.m. and 6:15 p.m. and buy-ins are in the $25-$125 range. Some notable events include Monday's $30 Shirley's seniors at 11:15 a.m. and $65 no-limit Omaha at 6:15, Wednesday's $90 crazy pineapple with $25 bounties at 7, Friday's $125 event with $25 bounties at 7:15, and Saturday's $100 tourney at 12:15.
NAPLES-FT. MYERS GREYHOUND TRACK: Mark Wilkes beat 425 players to take down the Summer Series Main Event for $15,380. The $260 tourney more than tripled its $30K guarantee with a prize pool of $97,750. Day 2 had 102 players returning, with 48 getting paid, and William Rodriguez was runner-up for $10,305.
MELBOURNE GREYHOUND TRACK: Club 52 has plenty of events to choose from in October, including $5K guarantees for $60 on Oct. 4, 11 and 18 at 7 p.m.
Other events: Oct. 5 is a $10K guarantee for $130 at noon; Oct. 25 hosts a $70 PLO $5K guarantee at 7 p.m. and there will be $60 satellites for the November $100K guarantee on Oct. 12, 19, 26 at noon.
DERBY LANE: Daily tournaments are at 10 a.m., 1 p.m. and 6. Every day at 10 is Morning Madness for $10 (with a coupon), 4K chips and 10-minute blinds. Every Friday at 6 is a $175 nine-handed freezeout (20K chips, 30-minute blinds, $10 add-on for 10K more).
TGT POKER: The $125 Sunday Challenge sports a $5K guarantee Oct. 27 at 1 p.m. and includes a free buffet. On Tuesday and Thursday at 7 p.m., look for a $50 megastack with a $1.5K guarantee with one $125 bounty. Sunday's $60 bounty event has a $1K guarantee at 2.
Daily cash games include $1-$2 NLHE ($40-$200 min-max), $1-$3 ($100-$400), $2-$5 ($200-$1K) and a $5-$10 ($500-no max) that normally runs Thursday and Friday. Ask about mixed games and limit hold'em.
SARASOTA KENNEL CLUB: The One-Eyed Jacks Poker Room is gearing up for its Fall Classic in November by offering $60 satellites for its $520 main event. These satellites will be Oct. 13, 20 and 27 at 5 p.m., Oct. 21 and 28 at 1 and Oct. 10, 17, 24 and 31 at 6:30. – Sharon Fekete