Hao "John" Sun captured his second Mid-States Poker Tour main event, winning almost $72K, at Majestic Star Casino in Gary, Ind.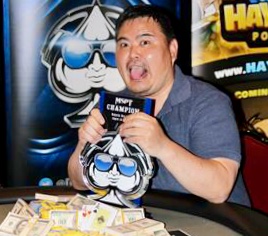 The Milwaukee native faced a loaded field of well-known players that included locals Aaron and Ralph Massey, Jill Bryant, Nick Pupillo, Jeremy Smith and Joel Casper, who won Indiana's first televised tournament, held here in 2006. The prize pool was almost $313K with 324 entries.
In other news, Majestic Star has been approved to relocate to a land-based site adjacent to the Borman Expressway at Burr Street. It will be rebranded as the Hard Rock Casino, with a planned opening of ‪Dec. 31, 2020‬.
AMERISTAR EAST CHICAGO: The Heartland Poker Tour's $350 Monster Stack ended in a six-way deal: Michael Tullia, $30,435; Matthew Porter, $30,283; Mike Younan, $27,572; Brandon Casto, $25,250 (plus trophy); James Calvo, $24,426, and David Oppenheim, $16,810. The prize pool was $287K-plus with 957 entries.
Here were some of the other winners: Event 2, David Stoneburner, $8,031 (seniors); Event 3, John Tobias, $3,763 (deepstack); Event 4, Bala Iyer, $2,511 (short stack); Event 5, Yuryi Moskovoy (bounty), and Event 6, Scotty Brooks $3,137 (seven-game mix).
TROPICANA EVANSVILLE: Frank Covich defeated 266 entries, winning the Indiana State Poker Championship for almost $63K. The Murfreesboro, Tenn., resident owns a WSOPC ring from a Horseshoe Southern Indiana win in 2015. The prize pool was $256K-plus.
After the victory, Covich revealed a simple strategy to solving the puzzle of a unique final table. "It was a long tough final table," he said. "I just let other people knock each other out and tried to catch cards. Heads-up I was just trying not bluff my stack off and catch good hands. All I can say is I'm feeling good!" – Joe Giertuga