George Hemphill beat nearly 250 entries for $21,500 to win the $400 main event of the Summer Series at Tampa Bay Downs' Silks Poker Room in Tampa, Fla. The series, which ran July 19-28, had more than $250K in guarantees, including $100K for the main.
Event 1 kicked off with a $175 NLH $40K guarantee.  Tampa's Matt Buckshaw beat 325-plus players to take down the $175 opener ($40K guarantee) for $7,972.
HARK ROCK TAMPA: Pablo Perez is director of poker. Formerly of Seminole Coconut Creek, he brings extensive knowledge in the gaming industry and holds a B.S. in business administration, management and operations from the University of Phoenix. He will be working with tournament manager Yi Li.
Hard Rock offers daily tournaments: Sunday, noon, $140, $20K guarantee; Monday, 11 a.m., $80 and 6 p.m. $150 deepstack turbo, $5K guarantee; Tuesday, 11 a.m., $80 and 6 p.m., $185, $20K guarantee; Wednesday, 11 a.m., $100 Omaha/8 and 6 p.m. $230, $10K guarantee; Thursday, 11 a.m. $150 double-green-chip bounty turbo and 6 p.m., $140, $20K guarantee; Friday, 11 a.m., $150, $4K guarantee and 6 p.m., $230, $10K guarantee; Saturday, 11 a.m., $250 (30K units, 30-minute levels, $30K guarantee) and 6 p.m. $150 double-green-chip bounty turbo.
OXFORD DOWNS: Sept. 8 is a $230 deepstack. Every other Sunday for the month is a $55 event.
Every Monday is a $30 seniors tournament at 11:15 a.m. and a $65 NLHE-Omaha at 6:15. Wednesday is $90 crazy pineapple with a $25 bounty and a $40 NLHE with a
$10 bounty. Every Thursday at 12:15 p.m. is $100 NLO/8. Friday offers a $30 event at 12:15 and a $125 with $25 bounties at 7:15. Saturday is $100 event at 12:15 and $60 crazy pineapple at 6:15.
NAPLES-FT. MYERS GREYHOUND TRACK: Sundays offer a $130 deepstack at noon and $100 at 7. See the Where to Play listings in the back of this issue for the tournament schedule.
MELBOURNE GREYHOUND TRACK: Club 52 will run a $130 event every Sunday in September at noon. Every Monday and Wednesday is a $60 event at 7. Every Friday is a $60 tourney with a $5K guarantee at 7. Promotions include Aces Cracked, Super Bonus Sunday and $300 high hands.
See the ad on Page 44 of our September 2019 issue and check out mgpark.com.
DERBY LANE: Daily tournaments run at the St. Petersburg room at 10 a.m., 1 p.m. and 6. Every day at 10 is Morning Madness for $10 (with coupon), 4K chips and 10-minute blinds. Every Friday at 6 is a $175 freezeout (20K chips, 30-minute blinds,
$10 add-on for 10K, nine-handed).
TGT POKER: The usual cash games run here at this Tampa property, but others include $1-$2-$5 PLO with a $200-$1K min-max and $5-$10 ($500-$2.5K) and $1-$3 NLO ($100-$1K).
Coming soon: D.J. Wild Stud Poker and Face-up Pai Gow Poker.
SARASOTA KENNEL CLUB: A $1-$2-$5 PLO game ($200-$1K min-max) runs most Fridays at the One-Eyed Jacks Poker Room. Visit skcpoker.com for promotions and tournament schedule.
North Florida
Simon Revelo took first prize in the $77,700 GAPT Heatwave Series main event at Daytona Beach Racing and Card Club in Daytona, Fla.
Revelo of Orlando outlasted 309 entries as the prize pool was nearly $140K. Other winners included Gordon Robinson of Daytona Beach and David Brookman of St. Augustine.
BESTBET JACKSONVILLE: Kelly Joe Andrews, Brandon Golden and Dennis Barrett cashed in the WSOP main event, qualifying via satellites at bestbet. The WPT Fall Series runs Sept. 27-Oct. 15 with 21 tourneys. The $5K main event features a $1M guarantee. Other events include $350K in guarantees. Tournaments run daily at noon and 7 p.m.
BESTBET ORANGE PARK: Marvin Smith of Jacksonville and Marcellus Lane of Chicago topped the July deepstack, each taking home $12K as 414 players created a prize pool of $66K, shattering the $30K guarantee.
Tournaments are Tuesday at 7 p.m. ($50), and Sundays at noon ($50).
EBRO GREYHOUND PARK: The Emerald Coast Poker Championship runs Oct. 16-27 and will have seven tourneys, including a five-flight main event.
The series will guarantee $150K and all winners receive championship bracelets.
Labor Day at the cash tables mean $200 high hands every
15 minutes (9 a.m.-3 a.m.). Faces Full Jackpots is a promotion that gets progressively more lucrative daily. Call the poker room for details.
Tuesday and Saturday tournaments returned to the schedule as both events cost $60.
PENSACOLA GREYHOUND TRACK: Joseph Corgen, Austin Berzett, Jamie Tran and David Dang chopped the June $20K event for $3,480 each. Jeremy Cutting won the July event and Kyle Haver was runner-up. The September $20K guarantee costs $180 and has starting flights Sept. 26-28 at 1 p.m. with Day 2 Sept. 29 at 1.
ORANGE CITY RACING AND CARD CLUB: A number of regulars cashed in the WSOP main event, including Mark Zullo, Femi Fashakin, Corey Thompson, Andrew Pacifico, Sean Iannucci, Larry Hoffman and Thomas Barnard. Tournaments in Orlando's closest room are Monday and Tuesday (GAPT events), and Thursdays.
CREEK GRETNA: Bardia Jahann beat 63 players for the title and $2,699 in the $270 event, which had a $10K guarantee. The next $10K is Sept. 21 at 1 ($270).
South Florida
South Florida tournament regular Tom Gity of Port St. Lucie took home the trophy in the main event of the Florida State Poker Championships in a five-way chop, collecting $56,403 at the Isle Casino in Pompano Beach. Other players involved in the final split received various amounts ($30K-$47K) and included Joshua Hillock, Kyle Anderson, Allan Bieler and Joseph Yselonia. The tournament had 266 entrants and beat the $300K guarantee.
Earlier in the series, poker vloggers Andrew Neeme and Brad Owen hosted one of their popular meet-up games, which filled around 16 tables for a good part of the evening.
SEMINOLE COCONUT CREEK: The WSOPC returns Sept. 19-30 and will do so with a new poker director, Kelly Mautner, who began her career in South Florida in 2005 before spending many years at Parx in the Philadelphia area.
The WSOPC has a $1,700 main event with a $1M guarantee and two starting flights at 11 a.m. (Sept. 27-28). Other events include a $100K guarantee early in the series with four opening sessions and a $400 buy-in, an $1,125 PLO tourney and a $2,200 high roller.
WSOP NEWS: Lake Worth's Zhen Cai finished sixth in the WSOP main event for $1.85M. Following in the footsteps of good friend Tony Miles, who finished second to John Cynn in 2018, Cai was third in chips with 60M-plus entering the final table but got knocked out by Kevin Maahs when his A-K ran into pocket nines and didn't improve.
Missouri
HOLLYWOOD ST. LOUIS: There were 2,400-plus entries across eight preliminary events for the Heartland Poker Tour's second stop here. Event 1, a $200K guarantee with three starting flights, accounted for 1,129 of them. Dino Galic (St. Louis),
Nathaniel Stumph (St. Charles) and Taylor Hooper (Clarksdale, Tenn.) chopped their share of the $338,700 prize pool, taking home $42,202 apiece on their $350 buy-ins.
James Finch (Granite City, Ill.) also received a pretty decent return on his $300 investment in the seniors (Event 2), receiving $15,975 for outlasting a 261-player field, defeating Kansas' Randy Dack ($9,850) for the title.
William Burns, a local attorney who won the HPT main at Hollywood in March, won Event 3, a $200 seven-game mix, defeating St. Louis native Joshua Turner, who resides in Missouri City, Texas. Craig Welko, another St. Louis local, finished 12th. The event drew 112 runners, generating a prize pool of almost $18K. Turner finished fifth in the $300 six-max (Event 7) and Welko finished 17th. First place and $10,388 went to Bryson McGinnis.
Check back for results from the main event, which ran after press time.
RICHARDS HITS IT BIG: John Richards, a circuit pro from nearby Roxana, Ill., hit the biggest score of his tournament career at the WSOP, finishing third in the $3K six-max PLO (Event 85) for $187,870.
North Carolina
Billy Cashwell of Stedman took down the $1,700 WSOPC main event at Harrah's Cherokee for $271K, beating Forrest Raleigh of Georgia ($167K). Cashwell, a self-employed construction worker, has a long history of success in WSOPC since 2008, when he had his first cash at Ceasars Atlantic City. But this victory was his first ring and largest cash by far.
When asked how he felt finally winning the title, he said, "Great, I have been at this awhile."
Mississippi
The Gulf Coast Poker Championship at the Beau Rivage in Biloxi, Miss., runs Sept. 5-16. The $1,350 main event begins Sept. 14 at 1 pm. and starts you with 20K chips. The championship events always draw massive crowds with plenty of satellite action to make sure everyone gets a seat.
This is the absolute best time to visit the Beau, but rooms fill up quickly. To get information on room rates, view structures and more details, visit beaurivage.com.
PEARL RIVER RESORT: If you've never played at the Philadelphia, Miss., property, you're missing out. The poker room was renovated a few years ago to give it a contemporary feel and updated features. The poker room consistently draws plenty of local action and you're guaranteed to find a fun live promotion every day of the week.
On Tuesday and Thursday, enjoy a $100 hourly high-hand giveaway (noon-5). If Omaha is your game, get paid cash ($50-$100) for having your wheel busted. Double if your hole cards are suited.
Monday and Wednesday (2-7 p.m.) has splash pots when the board flops and turns all four suits. The river determines how much the payout will be. A club or diamond river will award $50, a heart on the river pays $75 and a spade is worth $100.
Tuesday and Thursday (8 a.m. to 1 p.m.), $50 will be added to the pot once an hour if a suited flop comes. An additional $100 will be added if the turn is the same suit as the flop. If there should be a suited river card, flushing the board, $150 will be added to the pot.
If it's your birthday month, be sure to come in on the second Tuesday of the money for Birthday Bash High Hands, where the top-six high hands of the day will award $100 each to winners who have birthdays in the same month.
Louisiana
L'AUBERGE CASINO BATON ROUGE: The bad-beat jackpot (quads) was $120K at press time. Earn $3 per hour of play in a live game through Nov. 1 (hours doubled 2 a.m.-10 a.m.).
HARRAH'S CASINO NEW ORLEANS: There's a new bounty tourney on Wednesday nights at 6 with a $150 buy-in and $50 bounties. The bad-beat jackpot (quad fives) was $233K at press time.
COUSHATTA CASINO: The new poker room is between Nathan's and Lenny B's. The bad-beat jackpot was $120K at press time and the mini-bad-beat pays $2,500. Other promos include splash pots, high hands and Kings and Sets Cracked.
ISLE CASINO LAKE CHARLES: There's a Saturday $10K guarantee at 3 p.m. for $230. The bad-beat jackpot was $115K at press time and look for Aces Cracked, Queens Cracked and Kings Cracked for promotions.
L'AUBERGE CASINO RESORT LAKE CHARLES: Promotions are $500 quads with rollover (5 a.m.-5 p.m.) as each quads will start at $500 and will increase $100 each day it's not hit, maxing out at $3K.
GOLDEN NUGGET LAKE CHARLES: Ask about the Aces Full House Mystery Cash Giveaway as each player with a full house gets a share of $4K by pulling a prize from the drum.
Meet Howard Mash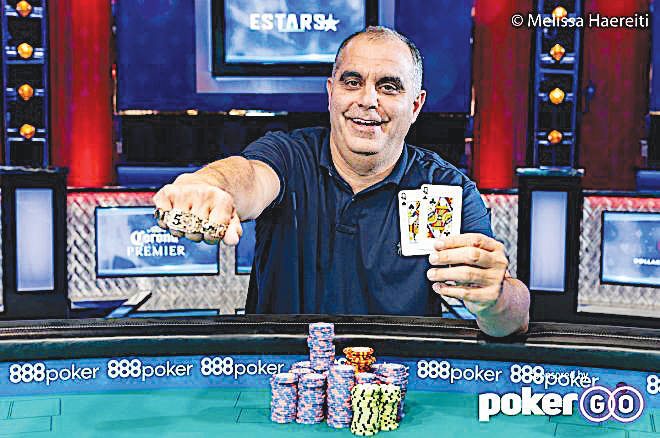 Howard Mash, a regular at the Seminole Casino Coconut Creek poker room in South Florida, celebrated his 50th birthday this year and took advantage of his youthful exuberance to win the senior event this summer at the World Series of Poker. His first-place prize of $662K-plus was by far the largest of his career.
What was your WSOP win like? I never really expected to win a bracelet, but that is why we play, just for that one magical day that can come through and change your life. When I got back to town and walked into the poker room at Coconut Creek, everybody got up and gave me a standing ovation. I got a little emotional because I really did not expect that, but they were all really happy for me.
People talked about how much fun you looked like you were having. I was having a blast. It's a lot different atmosphere in a seniors event from the younger player events because people actually talk to each other.  There is a lot of camaraderie.
Speaking of fun, you're in an online chat group call the Slum Donkeys. Two other members also won bracelets this summer, Femi Fashakin won the Big 50 and Luis Zedan won a $1,500 event. Tell our readers about that group. It's a pretty good group of guys from all over the country, but a lot of them are from Florida since it's run by a guy in Jacksonville. We talk about poker hands and everyone is so supportive when one of us does well. We just like to go over situations and enjoy talking poker.
— Dave Lemmon