The path to a major tournament title has many twists and turns, and for John Nethery, the path to winning the Ante Up Poker Tour Main Event at Atlantis Casino Resort spa involved craps, a text to change a flight and, of course, a couple fortuitous hands.
"It feels great. I'm on top of the world. I came out to win it and it worked out. My wife was away for the weekend, so I decided to come out and play," Nethery said after beating Rian Mullins heads-up to win $47,902 and a seat in the Ante Up World Championship. "I lost the satellite, and then won my entry on the craps table. Since 11:30 Friday night, it's been all good."
Nethery came into Day 2 of the two-flight, $1,100 buy-in event at the Reno, Nev., casino as the chipleader, having amassed 637,500 chips, many of them coming in a half-million-chip pot about an hour and half before Day 1B ended when he ran his pockets kings into the pocket queens of John Minor. 
When asked what his strategy was going into Day 2 with a heavy lead, Nethery said, "Patience. I hovered around 6 or 7 hundred for a long time. I didn't feel like doubling anyone up. I was just hoping to keep pace and hoping that Loren didn't get too far ahead of me."
"Loren" was four-time World Series of Poker bracelet winner Loren Klein, who came into Day 2 second in chips and quickly piled more up as soon as Day 2 began. When play got to the final table, local player Valerie Hanley, known for her unbridled aggression, was owning the final table, racking up big pot after big pot. That's when Nethery realized he was probably going to miss his flight home to Pleasanton, Calif.
"I looked up at the clock and texted my wife, 'you need to change my flight for me.' "
"I looked up at the clock and texted my wife, 'you need to change my flight for me.' " he said. 
With that taken care of, and Hanley having eliminated Klein, Nethery got his biggest hand of the tournament. He and Hanley spiked their kings on a king-high flop and got it all in, but Nethery had an ace kicker to Hanley's queen kicker. 
"I bet the turn, she shoved and I insta-called," said Nethery, who took over his father's industrial sanitation business and ran it for 24 years before selling it two years ago. "As soon as I said call, she said, 'uh-oh.' "
The hand zoomed Nethery to nearly 3 million in chips, and left Hanely with just 13 big blinds, which she got all in against Nethery soon after and was eliminated in third. Nethery finished off Mullins when his queen-four held up unaided against Mullins' jack-ten for the biggest tournament score of his life.
"My kids were going nuts texting me watching the live updates," said Nethery, who is known as "Uncle Vegas" in his family because every time one of his nephews turns 21, he takes them to Las Vegas to celebrate. 
But it was Nethery's turn to celebrate, planning on enjoying a steak Diane and a bottle of wine after the win. He normally plays cash and small tournaments at Livermore Casino near his home in California's Bay Area, and occasionally some events at Bay 101. The family has a trip to Ireland coming up, and said he might have to upgrade his wife and himself to first-class tickets for the flight over. 
"This was such a well-run tournament. I can't remember the last time I played in a tournament with 200 people where everybody was having a great time," Nethery said. "No one was saying, 'that was a stupid call.' No one was attacking players. I hate that stuff."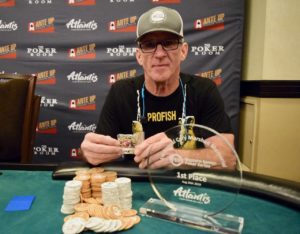 The series featured a total of 19 events, two of which were won by pro Kevin O'Donnell, including the Western Seniors Poker Series seniors event, which was renamed in honor of Cary Marshall, a beloved Reno player who passed away just before the series began. Other events included limit Omaha/8, a survivor, a few bounty events and two events unique to Atlantis Casino Resort Spa – a Kitchen Sink event that was six-handed with bounties and the winners of each hand getting the button and an 8-Game Mix that included games such as Drawmaha, Badacey and Razzdugi popular in the poker room's Monday night dealer's choice cash game.
All players who made a final table got an Ante Up Poker Tour Atlantis hat, and winners of each event received trophies. Hold'em Radio live reported the entire series, and Poker News provided live reports from the Main Event. 
Atlantis Casino Resort Spa is a AAA Four Diamond resort, with a luxuriously appointed Concierge Tower. All rooms in that tower and the Luxury Tower feature custom desks with a multimedia launch pad where guests can connect their laptop to the 42-inch flatscreen HDTV. Guests can choose from eight award-winning restaurants, including Bistro Napa, a winner of the Wine Spectator's Award of Excellence, and Toucan Charlie's Buffet & Grille, which has been voted Best Buffet by locals. Atlantis has a 30,000-square-foot spa, 50,000 square feet of convention space and a casino that offers 1,400 slot machines, table games, race and sportsbook, keno lounge and a comfortable, non-smoking poker room.
| | | | |
| --- | --- | --- | --- |
| 8/23-25/19 | Ante Up | Reno | Series |
| Event 15 | $1,100 | Main Event | $200k GTD |
| | 189 | Entries | |
| | $200,000 | Prize Pool | |
| | 24 | Places Paid | |
| 1st Adds | $1,650 | Ante Up | Champs Seat |
| | | | |
| PLACE | NAME | | PAYOUT |
| 1 | John | Nethery | $47,902 |
| 2 | Rian | Mullins | $33,581 |
| 3 | Valerie | Hanley | $21,580 |
| 4 | Craig | DiSalvo | $15,987 |
| 5 | Ryan | Awwad | $12,000 |
| 6 | Loren | Klein | $9,600 |
| 7 | Jed | Hoffman | $7,974 |
| 8 | Marshal | Barnes | $6,387 |
| 9 | Madison | Austria | $4,780 |
| 10 | Jarod | Minghini | $3,491 |
| 11 | Tom | Cage | $3,491 |
| 12 | Mary | Swafford | $3,491 |
| 13 | Joe | Elpayaa | $2,876 |
| 14 | Nathan | Tremble | $2,876 |
| 15 | Sean | Barker | $2,876 |
| 16 | Ted | Lawrence | $2,440 |
| 17 | Scott | Davies | $2,440 |
| 18 | Scott | Yarnell | $2,440 |
| 19 | Josh | Morrow | $2,142 |
| 20 | Rudy | Wasstin | $2,142 |
| 21 | Shawn | Daniels | $2,142 |
| 22 | Richard | Hanley | $1,904 |
| 23 | David | Badolato | $1,904 |
| 24 | Daoud | Majid | $1,904 |
| | | | |
| --- | --- | --- | --- |
| 8/15/19 | Ante Up | Reno | Series |
| Event #1 | $200 Warmup | $50 Bounties | |
| | 69 | Entries | |
| | $8,623 | Prize Pool | |
| | $3,450 | in Bounties | |
| | 12 | Places Paid | |
| | | | |
| PLACE | NAME | | PAYOUT |
| 1 | Paul | McGurk | $2,078 |
| 2 | Jacob | Arguello | $1,535 |
| 3 | Robert | Springer | $1,116 |
| 4 | Nathan | Rold | $826 |
| 5 | Tim | Kuss | $620 |
| 6 | Benjamin | Horr | $496 |
| 7 | Don | Grove | $413 |
| 8 | Jason | Daniele | $331 |
| 9 | Curtis | VIning | $248 |
| 10 | Randolph | Vanderwest | $200 |
| 11 | Andrei | Krauchuk | $200 |
| 12 | Tom | Franklin | $200 |
| | | | |
| --- | --- | --- | --- |
| 8/16-18/19 | Ante Up | Reno | Series |
| Event 2 | 400 | NLH | $50k GTD |
| | 184 | Entries | |
| | $62,468 | Prize Pool | |
| | 23 | Places Paid | |
| | | | |
| PLACE | NAME | | PAYOUT |
| 1 | Mitch | Barney | $12,803 |
| 2 | Marty | Gorenc | $10,000 |
| 3 | Steve | Nevius | $10,000 |
| 4 | Jason | Pease | $5,050 |
| 5 | Brian | Lindstrom | $3,775 |
| 6 | Theodore | Kessler | $3,025 |
| 7 | Arturo | Segura | $2,520 |
| 8 | Jeff | Day | $2,075 |
| 9 | Alan | Mastic | $1,505 |
| 10 | Adam | Bishop | $1,100 |
| 11 | Tom | Franklin | $1,100 |
| 12 | Jed | Hoffman | $1,100 |
| 13 | Jeff | Trettenero | $905 |
| 14 | Mary | Swafford | $905 |
| 15 | Joel | Danforth | $905 |
| 16 | Scott | Ayers | $800 |
| 17 | Arash | Roofi | $800 |
| 18 | Dwight | Englekirk | $800 |
| 19 | Brent | Bruno | $700 |
| 20 | Paul | Morris | $700 |
| 21 | Griffin | Willis | $700 |
| 22 | Scott | Hofer | $600 |
| 23 | Dale | McMullen | $600 |
| | | | |
| --- | --- | --- | --- |
| 8/16/17 | Ante Up | Reno | Series |
| Event 3 | $180 | NLH | $5k GTD |
| | 54 | Entries | |
| | $8,119 | Prize Pool | |
| | 8 | Places Paid | |
| | | | |
| PLACE | NAME | | PAYOUT |
| 1 | Keith | Asbell | $2,636 |
| 2 | Michael | Powell | $1,742 |
| 3 | Gregory | Varanese | $1,093 |
| 4 | Brian | Curtis | $899 |
| 5 | Christine | Pritchard | $656 |
| 6 | Chao | Chen | $493 |
| 7 | Timothy | Malone | $425 |
| 8 | Phillip | Rhodes | $175 |
| | | | |
| --- | --- | --- | --- |
| 8/17/19 | Ante Up | Reno | Series |
| Event 4 | $180 | Omaha8 | $5k GTD |
| | $52 | Entries | |
| | $7,818 | Prize Pool | |
| | $7 | Places Paid | |
| | | | |
| PLACE | NAME | | PAYOUT |
| 1 | Edward | Thiele | $2,558 |
| 2 | Dean | Smith | $1,718 |
| 3 | David | Badolato | $1,113 |
| 4 | Sherry | Byrd | $938 |
| 5 | Larry | Nicholas | $704 |
| 6 | Christopher | Brandt | $547 |
| 7 | Robert | Cain | $240 |
| | | | |
| --- | --- | --- | --- |
| 8/17/19 | Ante Up | Reno | Series |
| Event 5 | $180 | NLH | $5k GTD |
| | $49 | Entries | |
| | $7,367 | Prize Pool | |
| | $7 | Places Paid | |
| | | | |
| PLACE | NAME | | PAYOUT |
| 1 | Darren | Walker | $1,900 |
| 2 | Richard | Kamamru | $1,661 |
| 3 | Stewart | Levy | $1,458 |
| 4 | Navjot | Dhillon | $908 |
| 5 | Scott | Ayers | $687 |
| 6 | Jagdeep | Bal | $503 |
| 7 | Gerardo | Murillo | $250 |
| | | | |
| --- | --- | --- | --- |
| 8/18/19 | Ante Up | Reno | Series |
| Event 6 | $260 | NLH | $10k GTD |
| | 65 | Entries | |
| | $14,186 | Prize Pool | |
| | 9 | Places Paid | |
| | | | |
| PLACE | NAME | | PAYOUT |
| 1 | Kevin | O'Donnell | $2,833 |
| 2 | Ryan | Awwad | $2,200 |
| 3 | Oren | Mosher | $2,200 |
| 4 | Richard | Moon | $2,200 |
| 5 | Scott | Shawver | $2,200 |
| 6 | Vincent | Mortino | $851 |
| 7 | Brian | Curtis | $709 |
| 8 | Kenneth | Webster | $567 |
| 9 | Paul | McGurk | $426 |
| | | | |
| --- | --- | --- | --- |
| 8/18/19 | Ante Up | Reno | Series |
| Event 7 | $140 | NLH | $100 Bounty |
| | $80 | Entries | |
| | $1,312 | Prize Pool | |
| | $8,000 | in Bounties | |
| | $5 | Places Paid | |
| | | | |
| PLACE | NAME | | PAYOUT |
| 1 | Shane | Gray | $263 |
| 1 | Alfred | Driscol | $263 |
| 1 | Jack | Noble | $262 |
| 1 | Jeff | Nichols | $262 |
| 1 | Arash | Raoofi | $262 |
| | | | |
| --- | --- | --- | --- |
| 8/18/19 | Ante Up | Reno | Series |
| Event 8 | $150 | Survivor | |
| | 24 | Entries | |
| | 3,000 | Prize Pool | |
| | 4 | Places Paid | |
| | | | |
| PLACE | NAME | | PAYOUT |
| 1 | Matthew | Coleman | $757 |
| 1 | Aaron | Fang | $757 |
| 1 | Tom | Carmody | $756 |
| 1 | Thomas | Raso | $756 |
| | | | |
| --- | --- | --- | --- |
| 8/19-20/19 | Ante Up | Reno | Series |
| Event 9 | $200 | Seniors | $15k GTD |
| | 206 | Entries | |
| | $32,970 | Prize Pool | |
| | 25 | Places Paid | |
| | | | |
| PLACE | NAME | | PAYOUT |
| 1 | Kevin | O'Donnell | $4,900 |
| 2 | Tim | Corcoran | $4,564 |
| 3 | George | Geros | $4,000 |
| 4 | Joe | Long | $4,000 |
| 5 | Mitchell | Cogert | $4,000 |
| 6 | Richard | Clausen | $1,596 |
| 7 | Greg | Wagner | $1,325 |
| 8 | Dale | McMullen | $1,062 |
| 9 | Scott | Ayers | $795 |
| 10 | Ed | Yang | $580 |
| 11 | Ralph | Koehne | $580 |
| 12 | John | Codding | $580 |
| 13 | Mark | Vail | $478 |
| 14 | John | Valadao | $478 |
| 15 | Monte | Gilley | $478 |
| 16 | Marty | Gorenc | $406 |
| 17 | Matthew | Rabb | $406 |
| 18 | Mitchell | Friedman | $406 |
| 19 | Mark | Meurrens | $356 |
| 20 | Heidi | Sjogren | $356 |
| 21 | Michael | Alton | $356 |
| 22 | Nels | Erickson | $317 |
| 23 | Barry | Milender | $317 |
| 24 | Lance | Donnell | $317 |
| 25 | Jim | Stephen | $317 |
| | | | |
| --- | --- | --- | --- |
| 8/19/19 | Ante Up | Reno | Series |
| Event 10 | $200 | NLH | $10k GTD |
| | 64 | Entries | |
| | $10,554 | Prize Pool | |
| | 10 | Places Paid | |
| | | | |
| PLACE | NAME | | PAYOUT |
| 1 | Glynis | He | $1,929 |
| 2 | Richard | Hood | $1,650 |
| 3 | Stephen | Velateur | $1,650 |
| 4 | Barry | Raymos | $1,650 |
| 5 | Paul | Sampson | $1,650 |
| 6 | Andrew | Tang | $608 |
| 7 | Phillip | Rhodes | $503 |
| 8 | Keith | Asbell | $397 |
| 9 | Scott | Shawver | $292 |
| 10 | Billy | Casey | $225 |
| | | | |
| --- | --- | --- | --- |
| 8/20/19 | Ante Up | Reno | Series |
| Event 11 | $260 | Battle of | the Ages |
| | 79 | Entries | |
| | $17,242 | Prize Pool | |
| | 11 | Places Paid | |
| | | | |
| PLACE | NAME | | PAYOUT |
| 1 | Scott | Ayers | $4,431 |
| 2 | Alfred | Ahlm | $3,000 |
| 3 | Robert | Rawlinson | $3,000 |
| 4 | Jarrad | Reynolds | $1,724 |
| 5 | illy | Derego | $1,293 |
| 6 | Brian | David | $1,035 |
| 7 | Griffin | Willis | $862 |
| 8 | Ron | Mossbarger | $690 |
| 9 | Craig | Harris | $517 |
| 10 | Grant | Beere | $345 |
| 11 | Charles | Smith | $345 |
| | | | |
| --- | --- | --- | --- |
| 8/20/20 | Ante Up | Reno | Series |
| Event 12 | $180 | 8-Game | Mix |
| | 22 | Entries | |
| | $3,308 | Prize Pool | |
| | 3 | Places Paid | |
| | | | |
| PLACE | NAME | | PAYOUT |
| 1 | William | Nikakis | $1,300 |
| 2 | Barbara | Kay | $1,096 |
| 3 | Andrew | Tang | $662 |
| 4 | John | Muntean | $250 |
| | | | |
| --- | --- | --- | --- |
| 8/21/19 | Ante Up | Reno | Series |
| Event 13 | $260 | 6-Max | $10k GTD |
| | 73 | Entries | |
| | $15,932 | Prize Pool | |
| | 9 | Places Paid | |
| | | | |
| PLACE | NAME | | PAYOUT |
| 1 | Bill | Watchman | $2,816 |
| 2 | Justin | Buchanan | $2,728 |
| 3 | Adam | Bishop | $2,662 |
| 4 | Dennis | McMahan | $2,488 |
| 5 | Steve | Christian | $2,070 |
| 6 | Ray | Villaman | $956 |
| 7 | Ralph | Koehne | $797 |
| 8 | Chance | Prebey | $637 |
| 9 | Daniel | Frank | $478 |
| 10 | Billy | Derego | $300 |
| | | | |
| --- | --- | --- | --- |
| 8/21/19 | Ante Up | Reno | Series |
| Event 14 | $450 | $200 Bounty | $20k GTD |
| | 64 | Entries | |
| | $12,032 | Prize Pool | |
| | $12,800 | in Bounties | |
| | 9 | Places Paid | |
| | | | |
| PLACE | NAME | | PAYOUT |
| 1 | Jared | Shipley | $3,610 |
| 2 | Jeff | Newman | $2,527 |
| 3 | Russell | Groomer | $1,624 |
| 4 | Bill | Sandborn | $1,203 |
| 5 | Tim | Kuss | $902 |
| 6 | Mary | Swafford | $722 |
| 7 | Punkie | Nelson | $602 |
| 8 | Ray | Villaman | $481 |
| 9 | Rex | Linin | $361 |
| | | | |
| --- | --- | --- | --- |
| 8/24/19 | Ante Up | Reno | Series |
| Event 16 | $180 | NLH | $5k GTD |
| | 39 | Entries | |
| | $5,864 | Prize Pool | |
| | 5 | Places Paid | |
| | | | |
| PLACE | NAME | | PAYOUT |
| 1 | Marty | Gorenc | $1,994 |
| 2 | Darrell | Jones | $1,793 |
| 3 | William | Barringer | $1,006 |
| 4 | Andrew | Sling | $771 |
| 5 | Beean | Lennon | $300 |
| | | | |
| --- | --- | --- | --- |
| 8/25/19 | Ante Up | Reno | Series |
| Event 17 | $260 | NLH | $50 Bounties |
| | 57 | Entries | |
| | $9,675 | Prize Pool | |
| | $3,083 | in Bounties | |
| | 6 | Places Paid | |
| | | | |
| PLACE | NAME | | PAYOUT |
| 1 | Tom | Franklin | $3,290 |
| 2 | Griffin | Willis | $2,225 |
| 3 | Scott | Hofer | $1,451 |
| 4 | Stephen | Bai | $1,161 |
| 5 | Arturo | Segura | $871 |
| 6 | Leigh | LeBlanc | $677 |
| | | | |
| --- | --- | --- | --- |
| 8/25/19 | Ante Up | Reno | Series |
| Event 18 | $120 | Kitchen | Sink |
| | 16 | Entries | |
| | $1,469 | Prize Pool | |
| | $400 | in Bounties | |
| | | Places Paid | |
| | | | |
| PLACE | NAME | | PAYOUT |
| 1 | Jason | Daniele | $650 |
| 2 | Donnie | Rhodes | $526 |
| 3 | Steve | Christian | $293 |