On Sunday, Sept. 4, 2011, the poker community was saddened to learn of the loss of one of their own: Thuy Doan. In 2009, Doan revealed in her popular PokerRoad blog that she had been diagnosed with an "aggressive soft tissue sarcoma in [her] upper...
Scott wraps up his coverage of the Ante Up Poker Tour's NorCal Classic at Thunder Valley.
This month I interviewed a couple that lives in the New Orleans area and has...
On Sept. 6, the bad-beat jackpot at Pechanga struck for $243,657, netting the loser of...
Chris returns from a successful Ante Up Poker Cruise and has some stories to share!
The 2013 Battles at the Beach $3,300 Main Event wrapped up on Monday at the Isle Casino Pompano Park in Pompano Beach, Florida, with Stephen Bokor walking away with the $155,496 top prize. He defeated Jose Parra heads up and a final table that...
Matthew Waxman of Parkland made the final table of World Series of Poker Event #56...
Poker in Las Vegas has many unique aspects, some more controversial than others. One of...
Often times Mike Matusow may seem like just another disgruntled bustout grimacing over bad beats and rivers gone dry. If one delves into his resume, though, they'd find he's one of the most decorated champions the WSOP has ever seen. Yes, the man they cal
Government shutdown makes Canterbury Park and Running Aces close their doors for three weeks.
Online gambling is quite a fierce industry. The industry faces stiff competition from other online gambling agencies as well as land-based casinos. They have...
What makes you feel worse: losing with pocket sevens against A-6 all-in or losing with pocket kings against A-10 all-in? I'm willing to venture...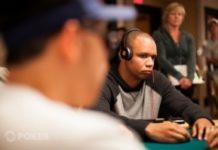 With casino poker rooms open in Cleveland and Toledo, for the first time many avid players in Ohio have an opportunity to be a...
Mansfield Gemini Social Poker Club in Ohio has reopened. Games are 6-handed, and masks and temperature checks are mandatory. For more information on poker room reopenings,...